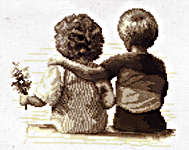 For a very special friend :)
Nishit here's the post I promised :)
Hope you like it :p
Don't feel scared or lonely.
I'm right here so don't you worry.
Just give me a call and pour your heart out,
I'll listen to you till you haven't calmed down.
I'm not there with you,
But my heart lies in your happiness.
For a great friend like you,
I can give away my life.
So just close you're eyes
And let your mind be clear.
I'll hold you close
And vanish away your fears..
Just feel me close,
And you will be fine.
Trust me,
And you'll know you're fine...



********************************************