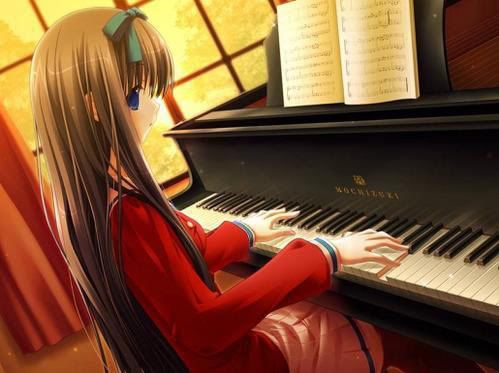 Her fingers slowly shifts from key to key,
As her worries she tries to leave.
She closes her eyes as she plays the soft tune,
Her fingers gently, touching the keys softly
As she sings the song just beautifully!
All her sorrow, all her misery...
She takes them all out on music,
She tries to forget all the bad that has happened with her...
While she plays her piano...
At least something belongs to her.
Tears roll down her cheeks
And touches the piano keys.
She does not stop playing,
She lets those tears fall...
Cause it makes her feel alive.
Flash backs...
Of him...Of the people she knew,
They never really cared for her...
They didn't have a heart...
At least, when she cries, she knows she's got emotions!
It's high time, she needs to stop...
She feels a sharp pain in her heart.
She stops at last and rests her heavy head on her piano,
A loud bang followed with silence...
Forever.