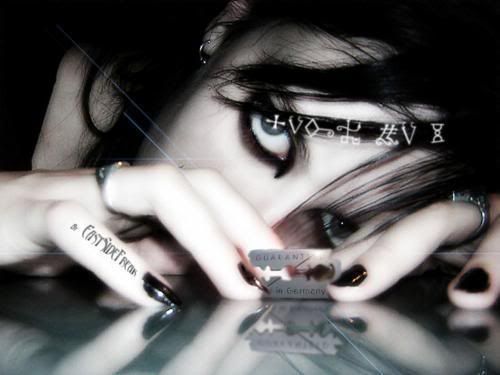 I had made up my mind that science is not for me. I mean, yea. I love science. It's interesting...but well I never did well in science after coming to the ninth grade. Ya, I know...I got really distracted and my mind was totally off studies, but I never thought I'd like, do so bad in science.
I was dreading my science paper like I had said...and ya, it went really bad! After coming to high school, I've stopped predicting my marks. Once the exam's over, I keep away my paper. I don't dare to discuss it cause I know that by doing so, I'm only going to spoil my mood...and in turn I'll hurt others! And I'm sick of hurting people who love me. It really hurts, you know. I do things I don't mean to...and later on, I cry over them! But there are two people in my life who have tolerated my craziness and stupidity for a very long time and they still are doing so. They are my mum and my sister.
I love my sister more than anybody else! She troubles me, she makes me cry but I wish I'd have paid attention to some of her stuff. She told me that 9th is hard. She told me to work hard for science, but well...I did listen to her. IN THE LAST MOMENT! When nothing could be done!
My life's only filled with 'if only'...'but'...'why'...and many more questions. After i do something wrong, I'm always like... If only I'd have used my brains! Anyways, it's over now. I worked hard. But I didn't work hard enough to catch up with the paper I found so tough!
But ya, even luck never supports me. When I say and feel that my exam has gone good, it always turns out to be the opposite. That's why I've stopped predicting and expecting stuff. Now I've left everything. Whatever has to happen, will happen! I'll have to digest it!
I've got one more paper left and I really have to study for it, else I don't know what's gonna happen to me! I just hope I get through the 9th! I hope I don't flunk.
Umm..you bloggers really rock! I love your comments. It's nice to know that somebody appreciates my work! Love ya all!!! ♥♥♥♥♥♥
So, I'm outta here now! Take Care! Tada :@
HugZz